HP LJ Pro 400 Paper Stops Under The Cartridge
I get a lot of jam calls for the HP Laserjet Pro 400 Series. This would include the M400, M401, & M425 black and white printers. The paper stops just below the toner cartridge, right where the spongey roller is (transfer roller)... thus indicating that the drum in the cartridge isn't even turning. This is actually a cartridge problem, and not a machine problem. And it doesn't happen with OEM HP cartridges, just the refurbished ones. But don't worry--it's easy to fix, and you don't even need a new cartridge.
This is happening with the 80A cartridges (used in the mentioned printers), but also in the 05A & 05X cartridges (used in the Laserjet P2050 & Laserjet P2055).
In the picture below, you can see the right side the the cartridge.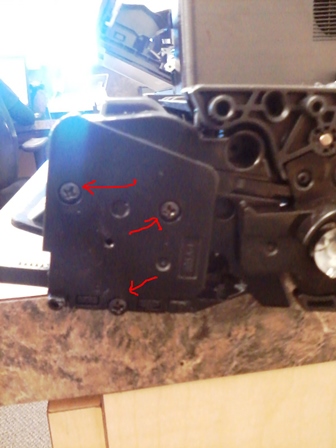 The arrows point to 3 screws, holding in a plastic plate. Remove the screws, remove the plate.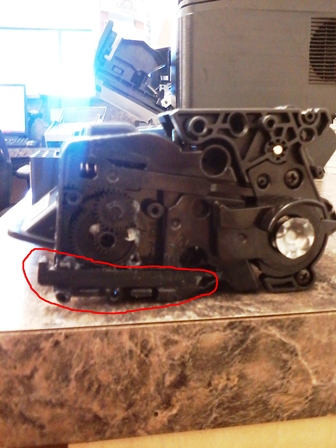 This picture shows a plastic shaft. The upper half of the shaft has gear teeth along it. Gently take the shaft out and reinsert it as shown below.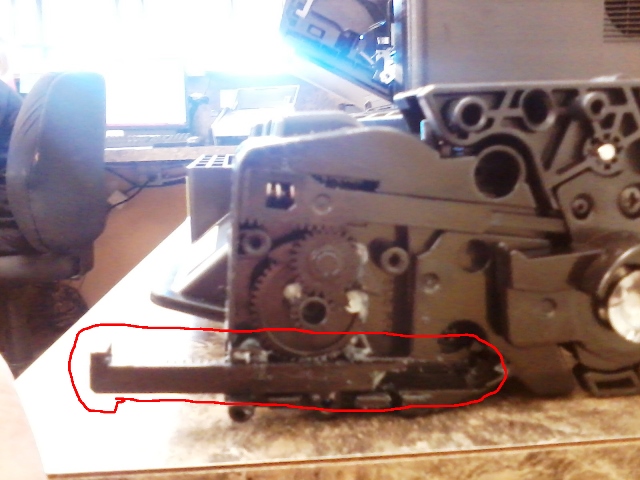 Notice how the shaft protrudes out from the cartridge when reinserted. This is how the shaft should look before putting the plastic shield back into place.
Once the shield is screwed back on, this is how your cartridge should look: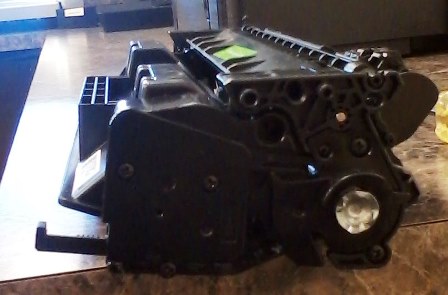 That's it. Make sure you've cleared out all the paper jams, put the cartridge back into the machine, and you should be ready to go.
The reason: that plastic shaft, when pushed in by the cartridge door, engages the gear for the drum. If it's jammed in, the drum gear won't come out, the drum won't engage, and you'll have a paper jam.